Project Management Institute (PMI®) has updated its Continuing Certification Requirements (CCR) program (certification renewal requirements) to align with the new PMI Talent Triangle™. In this post, we'll review how the new requirements have changed vis-à-vis the previous, and how PMI-certification holders can 'transition' from the old program to the new. If you have certified recently, you can also learn about the updated CCR program through this post.
What is PMI Talent Triangle?
Through research, PMI has established that project management practitioners require not only technical skills, but also leadership and business intelligence skills to support strategic objectives that contribute to their success. This combination of technical, leadership, and strategic and business management competency is what is now termed as the PMI Talent Triangle.
Technical project management: Knowledge, skills and behaviors related to specific domains of Project, Program and Portfolio Management.

Leadership: Knowledge, skills and behaviors specific to leadership-oriented, cross-cutting activities that help an organization achieve its business goals.

Strategic and business management: Knowledge of and expertise in the industry or organization that enhances performance and better delivers business outcomes.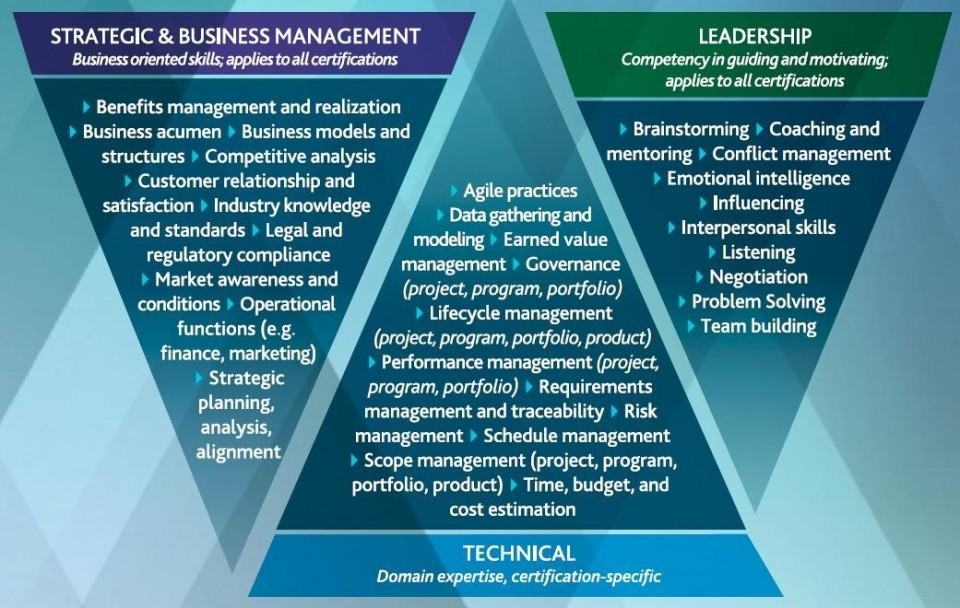 How has the CCR Program changed?
With effect from Dec 1, 2015, PMI's CCR program has been updated to align with the PMI Talent Triangle. In January 2016, PMI also updated the PMP® exam on the same lines and emphasized on benefits realization, delegation techniques, business acumen, emotional intelligence, generational sensitivity and diversity, customer satisfaction, etc.
Reprieve for those with renewal date before Dec 1, 2017
The good news for those with certification renewal due date before Dec 1, 2017 is that you can still follow the requirements of the old program for your current renewal cycle. Personally for me, this is relief because my PMP certification renewal is due on Nov 27, 2017. Talk about a close shave! I do not need to worry about the new requirements for this cycle. However, while reporting the PDUs now, you still need to categorize your PDUs as per the new talent triangle regardless of when your renewal is due. The image below shows the part of PDU Reporting form used for categorizing the PDUs per the talent triangle.

Is the new CCR program more difficult?
The next question that comes to mind is whether the new CCR program is more difficult compared to the previous one. I spent some time to research this. In my opinion, the answer is 'no'. Overall, I like the new program more. While certain changes have made it more difficult to meet the re-certification requirements, the new program has simplified matters in general. Let's deep dive into the details.
What has not changed?
The total number of PDUs required to maintain your certification has not changed. For PMP, the total PDUs required remains at 60 PDUs per cycle (3 years).
What has changed?
The PDU categories have changed. This is a positive change because I always found the previous categories (A-H) and their rules, unnecessarily complicated. The new structure is much simplified. Now we have just 2 categories of PDUs at the top level - Education and Giving back to the profession.
Education (minimum 35 PDUs)

This category has a minimum of 35 PDUs. But there's no maximum. In other words, you can get all your 60 PDUs in this category itself as long as you follow the sub-category rules. It has 3 sub-categories, which are aligned to the PMI Talent Triangle:

a. Technical
b. Leadership
c. Strategic and Business Management


Each of these sub-categories has a minimum requirement of 8 PDUs per cycle (3 years). This is what makes the new requirements challenging. Previously, there were no category-specific 'minimum' PDU requirements. Now you have to know specifically which sub-category the PDU belongs to and ensure that you meet the minimum requirements in each sub-category. Moreover, most of the free PDU resources on the web provide PDUs for the first 2 categories, and not for the Strategic and Business Management category. But not too fret. In another post, I'll share the free sources to get at least 8 PDUs in each category. So you are covered.

Education PDUs can come from the following means:

Courses or training offered by PMI REP, PMI chapters, or academic programs offered by universities
Organization meetings such as PMI chapter meetings or third party professional events
Online courses and webinars through PMI-REPs or third parties
Reading books, online articles and blogs (self-directed learning)
Informal learning through structured discussions such as when you are being mentored


The good part is that there's no minimum for self-directed learning (or for any of the above means for that matter). You can potentially earn all 60 PDUs through reading books (but remember to take notes while you read, and keep them as supporting evidence in case you get audited).

Giving back to the profession (maximum 25 PDUs)

This category has a maximum of 25 PDUs. This category also has 3 sub-categories:

a. Volunteering
b. Creating Knowledge
c. Working as a Professional


Previously, working as a project management professional could fetch you up to 5 PDUs per year or 15 PDUs per cycle for PMP. Now this has been reduced to just 8 PDUs per cycle for PMP. This will make you work harder to get your 60 PDUs.

You can earn PDUs in the Giving Back to the Professional category through any of the following means:

Working as a professional (in the field of project management) - basically you earn PDUs for doing your job
Create content such as authoring books, blogs or articles, or creating webinars or presentations
Give a presentation at a PMI chapter event, professional conference, or within your organization
Share knowledge with others such as mentoring and teaching your colleagues
Providing volunteer services to non-employer or non-client organizations, serving as PMI committee member, or offering your domain-related services to other non-profit organizations


Infographic on New CCR Program and PDU Categories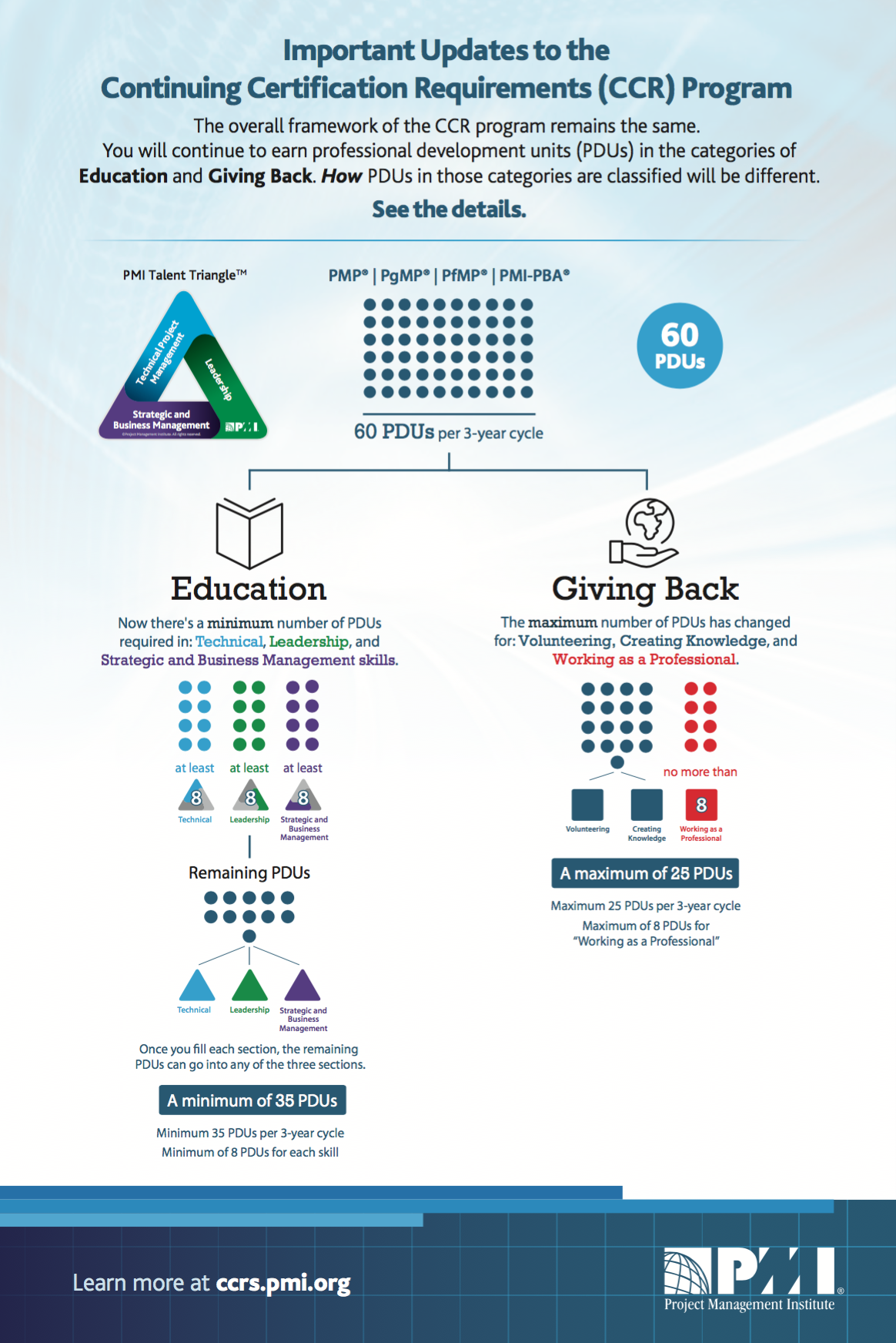 Quick Plan to earn 60 PDUs
Here's my quick plan to claim 60 PDUs going forward, without spending any money.
Education (minimum 35 PDUs)
Claim 10 PDUs for in-house leadership and soft-skills training conducted by my company
Claim 15 PDUs for watching online webinars and listening to podcasts
Claim 10 PDUs for reading project management books


Giving Back (maximum 25 PDUs)
Claim 8 PDUs for working as a professional
Claim 5 PDUs for sharing knowledge - spend 5 hours mentoring my colleagues on project management
Claim 12 PDUs under creating knowledge category for writing blog posts on project management

It doesn't appear too hard, does it?
In a future post, I'll detail out the plan to earn 60 PDUs and also share links to various sources of free PDUs that follow the new PMI Talent Triangle structure.
If you found this post useful or have any questions, please comment below and let me know.
---
Reference:
Subscribe via RSS