BrainBOK PMP and CAPM Flashcards module now includes a detailed progress report to help you track your progress by individual topics and keep you focused on your goal to get certified. This feature had been due for a while and we are glad to make it available to our users today with the release of version 10.3. It is accessible to both Premium and Basic (free account) users.
Track progress by Categories and Sub-Categories
Now you can track your progress by Topics, PMBOK® Guide Process Groups and Knowledge Areas, and Difficulty level. This will allow you to see the cards which you've not studied or reviewed yet. Using the new progress report you can easily see the areas that you need to work on.
How to view the Flashcards Progress report
On the Flashcards tab, simply click on the Progress Report icon (which is the right most icon in the row of 4 icons). Refer to the animated gif below.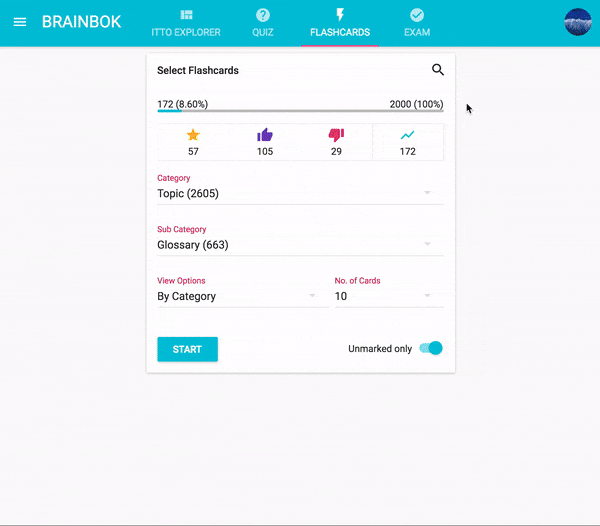 Tips to master all 2100 flashcards
We recommend the following approach to master all 2100 flashcards:
Review the cards by individual categories (topics) first.
As you review each card, stop and think about the answer before you skip to the answer. Mark the card as correct (thumbs up) or incorrect (thumbs down) based on your own assessment. You can also optionally bookmark or favorite the cards for quick access later. Any card that you bookmark (favorite), mark correct or mark incorrect is counted as 'reviewed'.
Aim to get all the bars on the progress report to 100%.
Next, focus on all the incorrect cards (marked down) and review them until you've marked all of them as correct (marked up). Your goal should be to get all 2100 cards marked as correct. Quick tip: You can access your correct-marked and incorrect-marked cards by clicking on the Thumbs Up and Thumbs Down icons respectively on the main Flashcards tab.
Review your bookmarked cards and any other cards until you feel confident, or as much as time permits.
Generously refer to the ITTO Explorer to reinforce the knowledge as you study the flashcards.

Go and check out the new progress report now and let us know what you think of it using the comments box below. We also welcome your ideas to further improve the report.
Subscribe via RSS