Rita Mulcahy PMP Exam Prep 9th Edition
Singapore Exclusive - 15% off BrainBOK subscription
Rita Mulcahy's PMP Exam Prep is available to our customers in Singapore now. Rita's PMP Exam Prep is by far the best and most-popular guide for PMP exam prep. It is the gold standard for PMP certification guides. We highly recommend this guide for anyone preparing for PMP certification even if you have taken a classroom course. It is aligned with the PMBOK Guide, 6th Edition and is meant for PMP Exam with effect from Mar 26, 2018.
Unfortunately, Amazon doesn't ship this guide to Singapore anymore. Therefore, we are making this book available to our customers at a very nominal price. The book retails for USD 99.00 in the US. We are making it available to our customers at SGD 145.00 only. On top of that, we are offering a 15% discount on all BrainBOK packages.
Update Mar 10, 2019: The book is currently OUT OF STOCK!
Guide: PMP Exam Prep by Rita Mulcahy, 9th Edition
Publisher: RMC Project Inc
Price: SGD 145.00
Payment mode: Cash
Free Gift: 15% discount on BrainBOK subscription
Condition: Brand-new in original shrinking wrap
Country of origin: USA
Self-collect at SengKang area in Singapore (no shipping or delivery)
Collection timings: 6pm-9pm on weekdays OR mutually convenient time on weekends
To purchase the guide, please contact us.
Free PMP Questions and Flashcards
While you are here, check out the BrainBOK App and get 115 PMP sample questions and 150 flashcards absolutely free.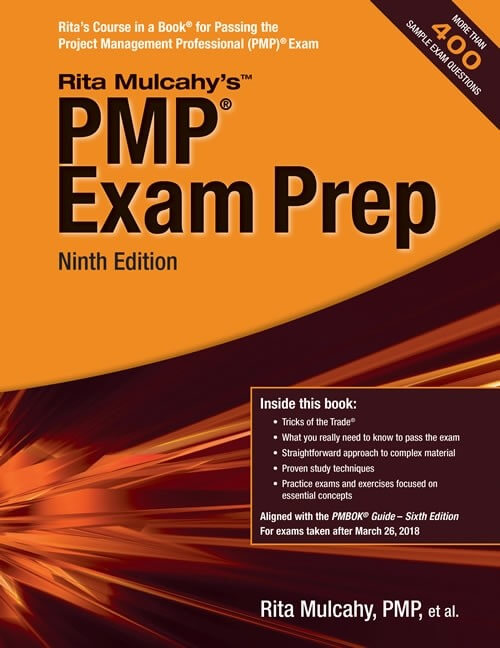 About BrainBOK Subscription
You do not need to waste thousands of dollars on expensive classroom courses. We are not suggesting that all classroom programs are bad. However, majority of them do not offer good value for money. At the end of the 4 or 5 day course, the students do not feel confident to go into the exam straightaway. Moreover, not everyone learns best in a classroom setting. Many students prefer to study at their own pace or do not have the time to take 4 or 5 days off from their schedule at a stretch.
Many PMP aspirants attend classroom courses simply to earn the 35 contact hours of project management education, which is a prerequisite for the PMP exam and then resort to self-study. They are not aware that there are much cheaper and better alternatives to earn these contact hours.
With BrainBOK Premium Pro subscription, you can get 35 contact hours of project management education with no additional cost and you can learn at your own pace anytime anywhere as long as you have internet connection. We offer flexible plans ranging from 30 to 180 days and all plans can be extended for up to 90 days at a time.
BrainBOK subscription includes:
1000+ PMP Practice Questions
2100 Flashcards
World's best tool to master ITTOs
Unlimited ITTO and Glossary quiz questions
PMP Formulas Study Guide (PDF)
Exam Prep Forum
Quick-start guide for PMP
PMP application walkthrough
BrainBOK Premium Pro subscription includes 1000+ sample questions. Rita's PMP Exam Prep includes additional 400 free sample questions. With 1400+ high-quality and realistic practice questions under your belt your chances of success on the PMP exam would be really high.
BrainBOK Premium Pro along with the PMBOK Guide and Rita Mulcahy's PMP Exam Prep is all you need to pass the PMP exam. That's an investment about USD 220 if you consider that PMBOK Guide (PDF) comes for free with PMI membership. Compare this to USD 2000 or more that you would spend for a standard 5-day classroom program, which doesn't even guarantee your success on the exam. Many programs offer 100% exam pass guarantee, but if you read their terms and conditions, it would be evident that it is a gimmick.
We offer a free basic account so that you can sample all the features of our product and make an informed purchase decision. On top of that, we offer a genuine 7-day money-back guarantee to offer you complete piece of mind. You can read dozens of stellar reviews from our happy customers who have benefitted from our program.
If you are serious about PMP certification, start now with a free basic account and get 115 free sample questions and 150 free flashcards. No credit card is required for the free basic account.
Happy learning and good luck for your PMP certification!