PMP Application Overview
Completing the PMP Certification application requires significant planning, time and effort. Fortunately, PMI has greatly simplified the application process since June 2020. In the past, PMP applicants had to report their project management experience across the 5 project management process groups - Initiating, Planning, Executing, Monitoring and Controlling, and Closing, and were required to report their experience across all 5 process groups. However, this requirement has been done away with. Now you simply need to provide an overall description of the project experience, in about 200-500 words for each project.
PMI Online Certification System
The PMP application needs to be submitted online through PMI Online Certification System. You need to create an account first. If you have prepared all the information in advance, the application process should take about 30 minutes to complete. This article will walk you through the detailed steps of the application process. We have also shared a video at the end that demonstrates the entire process.
PMP Application Processing Time
PMI typically takes about 5 days to process the PMP exam applications.
PMP Eligibility Requirements
Before we go further, read the PMP Exam Content Outline to understand the PMP eligibility requirements.
Assuming you have a bachelor's degree, you need to have at least 4500 hours (about 3 years) of non-overlapping project management experience acquired in the last 8 consecutive years. Non-overlapping experience means that if you are managing 2 projects simultaneously for 6 months, it will count as a total of 6 months of experience, not 12 months.
To meet the 3 years project management experience requirement, you may need to submit multiple projects.
PMP Application Steps
The PMP Certification application has just 3 simple steps as outlined below.
Step 1 - Education
In this step, you need to provide the following details:
Academic Education
Professional Education (such as the 35 contact hours of project management education)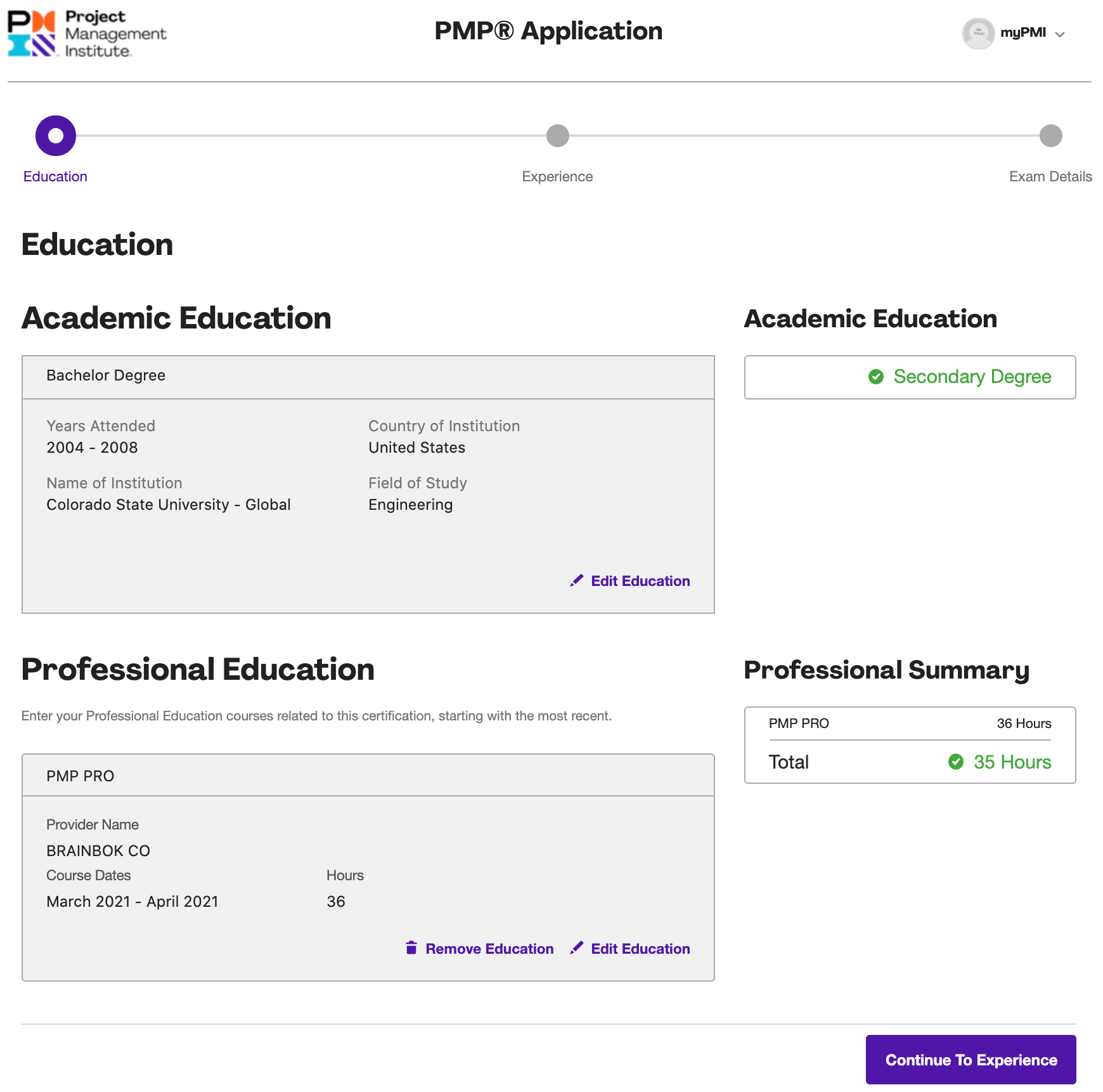 Step 2 - Experience
The Experience Details section is the core of the application. In this section, you need to provide the following details for each project:
Project Title
Organization
Job Title
Functional Reporting Area
Organization Primary Focus
Approach/Methodology (Waterfall, Agile, Hybrid)
Project Team Size
Project Budget
Project Dates (start and end month/year)
Project Status (whether still in progress)
Project Description
Project Description
In the Project Description section, you need to provide a summary of your project management experience on the project including the project objective, outcome (benefits to the organization, whether successful, failed, cancelled, etc.), your role on the project, and your responsibilities and deliverables. Keep the description within 200-500 words.
A good template to follow is:
The objective of the project was _______________________.
The project resulted in ________________________________.
My role in the project was _____________________________.
I was responsible for __________________________________.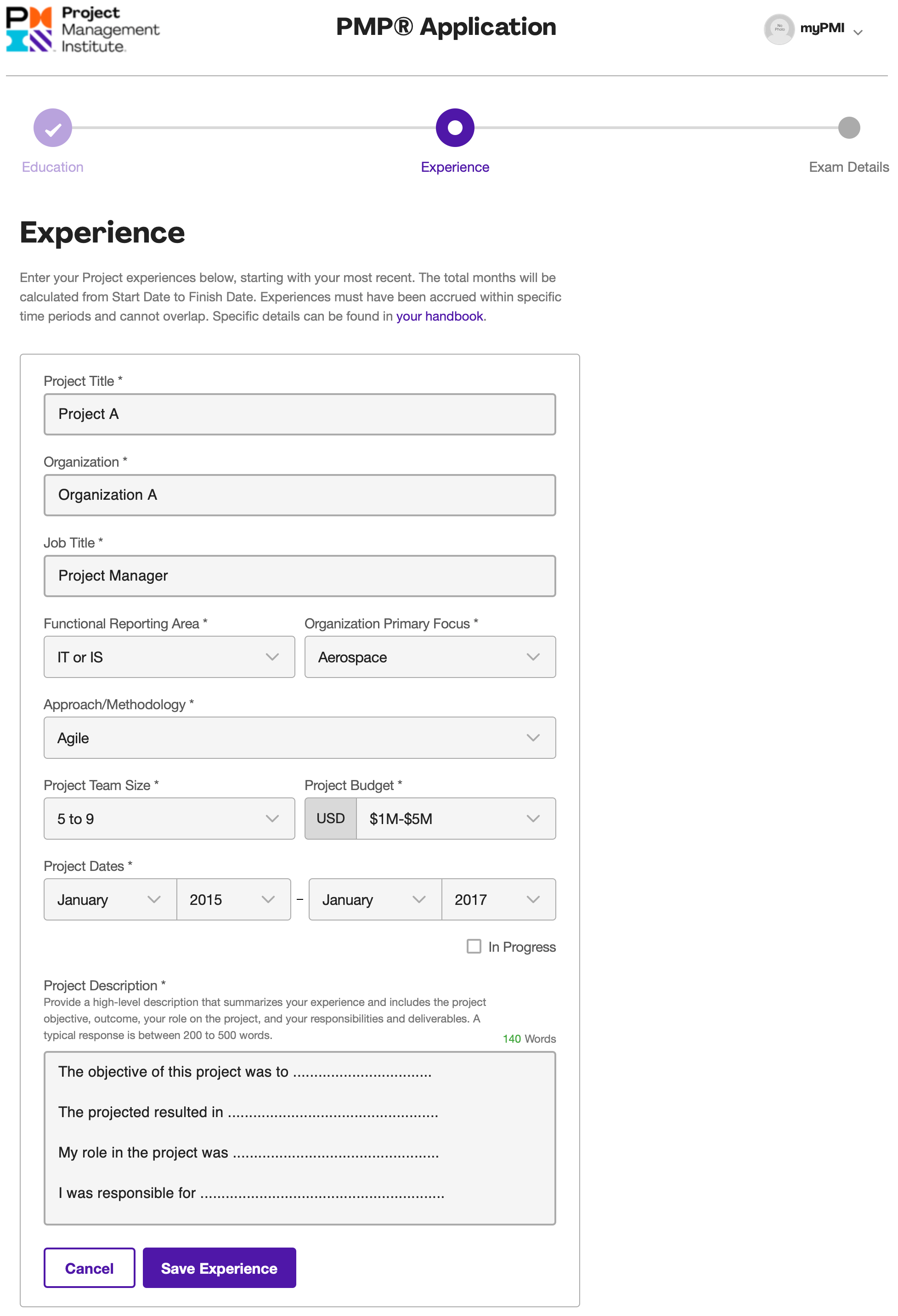 Step 3 - Exam details
In this section, you need to provide your:
Address
Name on your ID
Name to be printed on the certificate
Email Address
Phone Number
Exam location
Exam accommodations (if any)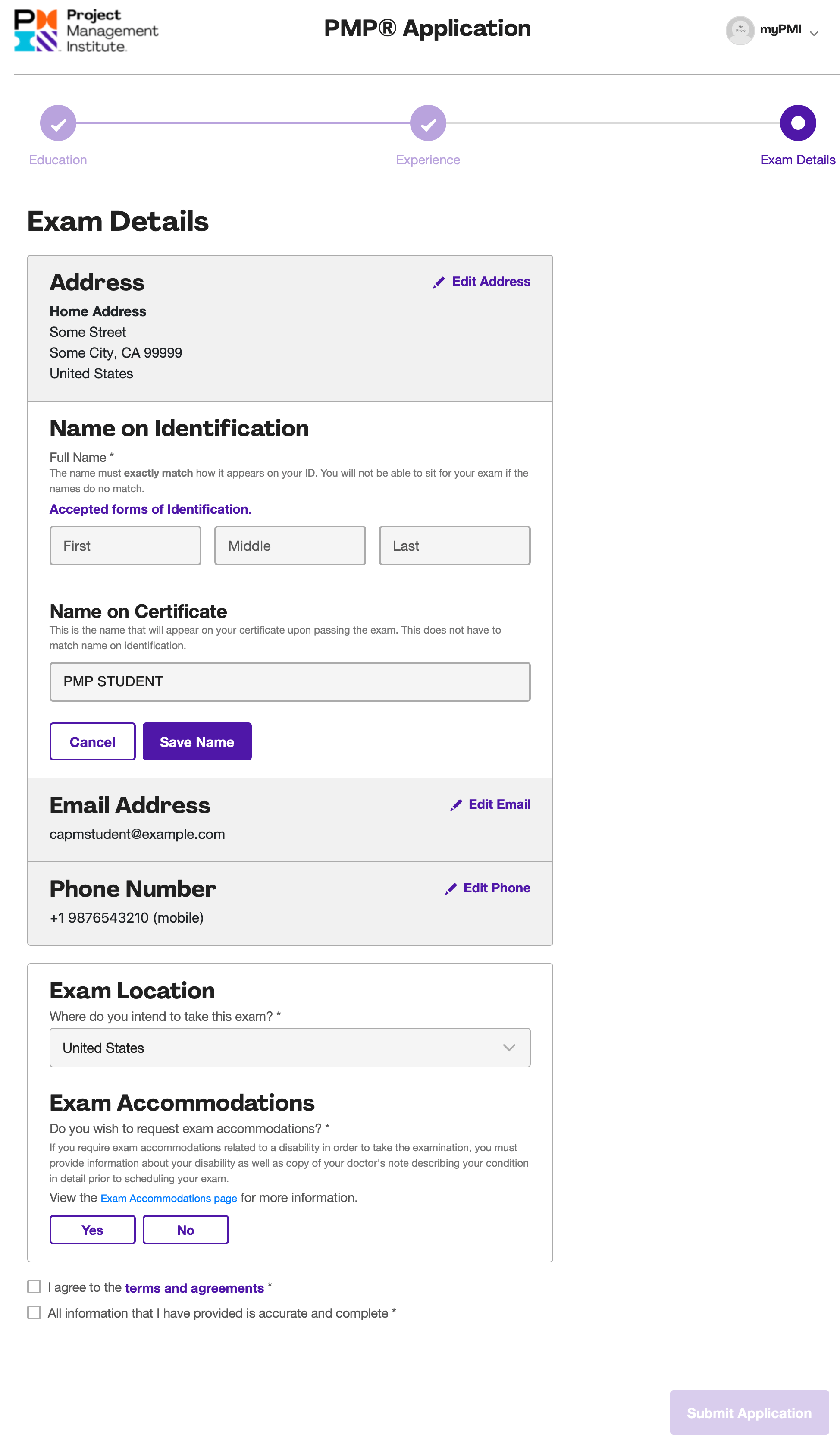 PMP Application Walkthrough Video
Refer to the following video by PMI for a complete step-by-step walkthrough of the PMP application process on the PMI Online Certification System.

PMP Application Tips
Here are a few tips to ensure that your application goes through smoothly.
Plan Ahead
In order to collate all the details, some applicants prefer to create a spreadsheet to list down their projects that they want to report, the respective start and end dates (in month and year), the total eligible experience in months, and the description of their project management experience in each project.
However, the online PMP application form is quite well laid out and you don't really need to use a spreadsheet. The application form can be saved as a draft and edited any number of times before the submission. Therefore, it's your call whether you want to create a spreadsheet in advance.
Get Manager's Buy-in
Make sure you have the backing of your current or previous supervisor(s)/manager(s) should your application be audited. The supervisor would be required to certify (sign) on your application form in case of an audit.
Use PM Speak
Use PM speak while describing your project management experience. Here's a simple trick.
The exam is now divided into 3 domains as mentioned in the content outline:
People (42%)
Process (50%)
Business Environment (8%)
Each domain is divided into a set of Tasks, and each task has a few Enablers. These are listed in the PMP Exam Content Outline. Your application will look more professional if you describe your experience in terms of the tasks and their enablers. You can borrow some of the terms, which are used to describe the tasks and enablers, to document your project management experience while keeping the description between 200-500 words for each project.
Be Honest
Be honest and truthful with your application. Remember, honesty is the best policy.
Questions?
We hope you found this article helpful. If you have any questions or need assistance, please Contact Us. Good luck with your application and certification!